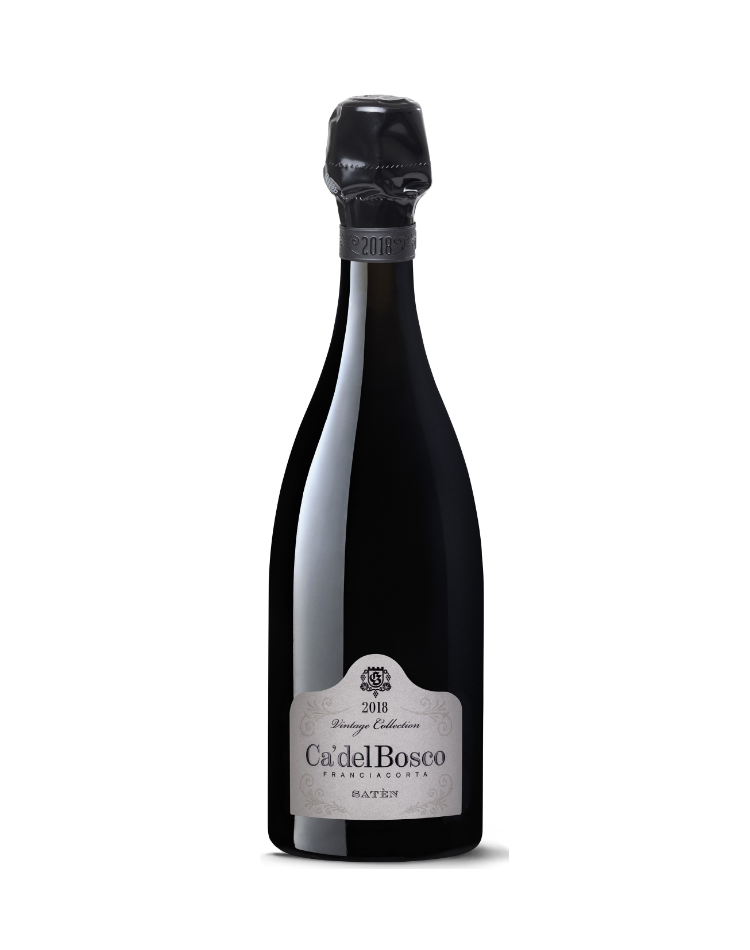  
Franciacorta Vintage Satèn 2018 750ml CA DEL BOSCO
Vintage Collection Satèn 2018
Denomination: Franciacorta Satèn Millesimato.
Grape varieties: Chardonnay 85%, Pinot Bianco 15%.
Original vineyards: 13 Chardonnay vines with an average age of 32 years, located in the municipalities of Erbusco, Adro, Cazzago San Martino, Corte Franca and Passirano.
2 Pinot Bianco vines with an average age of 29 years, located in the municipality of Passirano.
Harvest: 2018. Very cold winter: February with snow and minimum temperatures as low as -7°C. With the onset of spring, the weather remained cold and damp and the
vines began budding about ten days later than usual. From mid-April, an abnormal rise in temperatures to 29°C favoured abundant flower fertilisation. With the arrival of May,
however, the rain returned. It was only from 15 July that the real summer was seen, which continued until 25 August with temperatures up to above average, with almost
torrid heat in August. The much-desired summer rain arrived in the third ten days of August and met the water requirements of the vines. The harvest that began on 13
August gave us a vintage characterised by a very generous nature, well managed by thinning, with beautiful, healthy and perfectly ripened grapes.
Average yield per hectare of 8,300 kilograms of grapes, equivalent to 3,570 litres of wine (yield
into wine: 43%).
Vinification: Franciacorta Vintage Collection wines are the fruit of careful grape selection and skilful vinification conducted in full respect of the Ca' del Bosco Method. The
grapes, freshly hand-picked into small crates, are graded and cooled. Each bunch of grapes is selected by expert eyes and hands, to then benefit from exclusive 'grape
spas'. A special system of washing and hydromassage of the bunches, using three soaking tubs and a drying tunnel. After crushing in the absence of oxygen, all the musts
of the base wines ferment in small oak barrels. In order to seek maximum aromatic complexity and expressive power, without losing elegance, the barrel elevage lasts only
5 months. A pair of flying tanks allows the wine to be transferred by gravity from the small barrels to the ageing tanks. After 7 months from the harvest, the cuvée is created.
The Vintage Collection Satèn 2018 is the result of a skilful blend of 15 base wines of Chardonnay and Pinot Blanc. The addition of less sugar than in other Franciacorta
wines gives it creaminess and a particular profile, elegant and soft, which is further strengthened by long ageing in the bottle. Dégorgement takes place in the absence of
oxygen, using a unique system, invented and patented by Ca' del Bosco. This avoids oxidative shocks and further additions of sulphites, making our Franciacorta wines
purer, more pleasant and longer-lived. Finally, each packaged bottle is uniquely marked to guarantee traceability.
Draught: May 2019.
Ageing on yeasts: Average duration 48 months.
Type of taste: Brut.
Dosage at disgorgement
Sugar content of 0.5 grams/litre.
Analytical data at disgorgement
Alcohol: 12.5% Vol; pH: 3.01; Total Acidity: 6.50 grams/litre;
Volatile acidity: 0.28 grams/litre.
Sulphites
Total sulphur dioxide less than 55 milligrams/litre
(maximum legal limit: 185 milligrams/litre).

Data sheet
Year

2018

Type

Schaumwein

Allergens

Sulphite