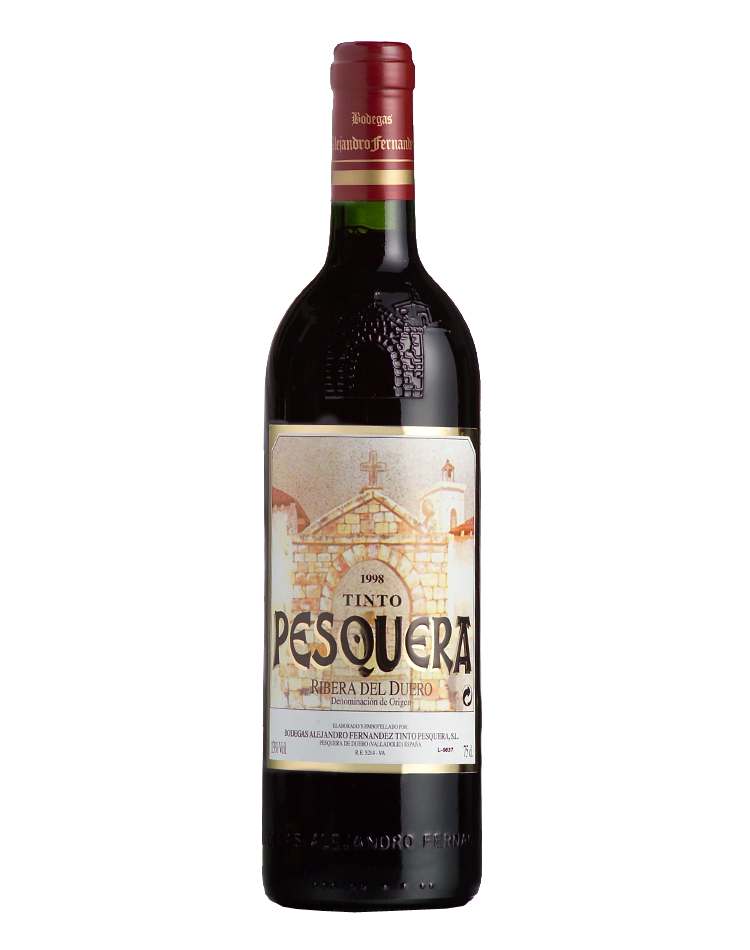  
Tinto Pesquera 2019 750ml
The bodega Tinto Pesquera is located in Pesquera de Duero, a village about 200 km north of Madrid, in the Ribera del Duero. This region is about 115 km long and takes its
name from the word ribera, which means cultivated fields near a watercourse. The soil is of alluvial origin characterised by the presence of clay, sand and infiltrations of
limestone and debris, while the climate is continental. In a cellar dating back to the 16th century, Alejandro Fernández created Tinto Pesquera in the 1970s: the name of his
winery, in a short time, embodied the renaissance of Spanish wine and especially Tempranillo. Tinto Pesquera is the result of Alejandro Fernández's close bond with his
land, Pesquera de Duero, so much so that his wine label features the town's symbols: its name, its tower and its arch. After alcoholic fermentation, the Tinto Pesquera
wines are not clarified and mature in French and American barriques for 18 months for the Tinto Pesquera and 24 months for the Reserva. In truly special vintages, the Tinto
Pesquera Janus Gran Reserva is produced, a single vineyard Tempranillo that is the epitome of elegance of this variety.

Varietal: Tempranillo.

Vineyards: The vineyards used to produce the Tinto Pesquera are located in Roa and La Horra (approximately 800 metres above sea level) in Ribiera del Duero. The soils are
heterogeneous, predominantly clay marl with the presence of limestone.

Vinification: the wine ages 14 months in American oak barrels, then 6 months in the bottle before release.

Characteristics: characterised by its brilliant colour, garnet hue, attractive and elegant. On the nose it has notes of red berries blending with balsamic hints. In the mouth it
is sweet, combining fruity hints with balsamic notes and liquorice.

Data sheet
Year

2019

Type

Red wine

Allergens

Sulphite